---
"To fly west, my friend, is a flight we all must take for a final check."
-author unknown
---
Published Thursday, October 7, 1999, in the Miami Herald



OLIVIER STEPHENSON
ostephenson@herald.com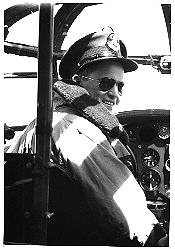 Guy L. Cottington, a World War II bomber pilot who went on to a career as a commercial and private pilot, including a five-year stint as the personal pilot for crooner Bing Crosby, died Sept. 30 of respiratory failure resulting from emphysema.

He was 82.

Cottington's flying career began in 1935 in his home town of Detroit, with a little bit of everything: air shows, passenger flights, cargo deliveries.

In 1937, he took a job as a co-pilot for Pennsylvania Airlines, flying Ford tri-motor and Boeing 247D planes. The airline was a forerunner of the carrier now known as USAir.

Between 1940 and 1942, Cottington was a flight lieutenant and position squadron commander in the Royal Canadian Air Force.

By 1942, when the United States had entered World War II, Cottington had joined the U.S. Army Air Force, flying B-17 bombers.

According to Victor Taugher, a fellow pilot, Cottington was involved in daylight missions over Germany and Western Europe, as well as military air strikes on targets in Germany.

He flew 23 daylight missions altogether, Taugher said.

After returning to civilian life, Cottington was a captain for Mid-Continent Airlines in Kansas City from 1946 to 1947.

Between 1947 and 1967, Cottington held a variety of positions in the airline industry -- airport manager, sales person, charter pilot, aircraft maintenance worker, flight instructor and chief pilot.

For a five-year period, Cottington worked in California as the personal pilot for Bing Crosby, Taugher said.

By the mid-'60s Cottington had relocated to Fort Lauderdale, flying sea planes to the Bahamas. He then joined Mackey International Airlines in 1968, Taugher said.

He retired from Mackey in Feb. 1977 as director of operations about the time Mackey went out of business.

Known as ``Crusty'' by his co-workers for his gruff demeanor, Cottington was, according to co-pilot Robert Brown ``a teddy bear inside.'' Brown, who is retired and lives in Pell City, Ala., said Cottington was his mentor and inspiration.

In his retirement years, while he legally could not fly commercial aircraft, according to Taugher, Cottington ferried aircraft.

He did this at two companies, first in 1979 to 1981 as director of operations and chief pilot at Atlas Aircraft Corporation in Miami and then at Trans-Air-Link, also in Miami.

Taugher said Cottington flew 17 Atlantic crossings during that period.

In his 47-year career, according to his résumé, Cottington flew a total 24,000 hours of commercial flying without damage to an aircraft or injury to a passenger

Cottington is survived by his wife, Dorothy; son Lance of Cardiff-by-the-Sea, Calif.; daughter Bette Penney of Oregon; and seven grandchildren.

A service was conducted Tuesday in Davie.

Arrangements were handled by Fred Hunter's University Drive Home.




Copyright 1999 the Miami Herald. Republished here with the permission of the Miami Herald. No further republication or redistribution is permitted without the written approval of The Miami Herald.